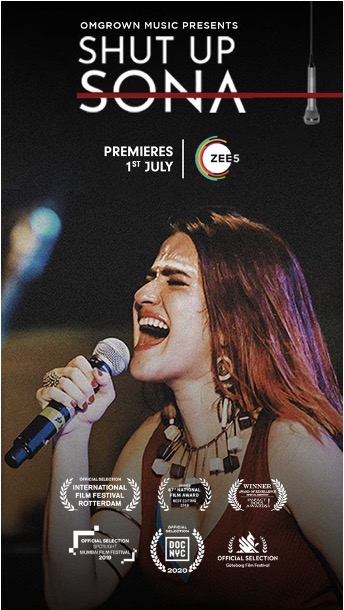 Singer Sona Mohapatra celebrates World Music Day today with the news of her intimate and unapologetic documentary Shut Up Sona hitting the global screens on Friday, 1st July on ZEE5 Global, the world's largest streaming platform for South-Asian content. The Indian award-winning documentary directed by Deepti Gupta and produced by Sona Mohapatra follows the story of the singer as she takes on blatant misogyny on social media, tirelessly fights for equal representation of women in the music industry and stands up to all those who try to police her body, her mind, and her creativity.
Shut up Sona has attended numerous film festivals around the world and has received an Indian Award for editing in 2021, a Film Critics Guild Award Special Mention at MAMI, an Impact Docs Award US, a Best Documentary Award IndieMeme, and the Best Documentary Award at the Indian Film Festival of Melbourne in 2021.
The documentary is framed around a court notice charging Sona of blasphemy just because she sang devotional songs while dressed 'obscenely.' It was shot intimately by Deepti herself, one of the industry's few female cinematographers. Several conversations with her husband Ram Sampath ensue, since this is not the first time Sona has been criticised for her clothing and choices.
Sona Mohapatra says, "As a woman, I've been told where the lines are all my life. The lines I cannot cross: don't sing loudly, don't voice your opinion, don't shout back at bullies, don't 'mis-behave'.. As a singer, artist, performer & producer, I've been making my way in a man's world & the rules are skewed in their favour. I've been told to 'shut up' for bringing this up. This film is my response to those dictats, those affronts. This film also gives space to the female gaze and showcases an artist, me & my music in all her unfiltered, raw glory. This is also a film about my passion for truth-seeking through my art, about the conflict between the medieval and the new, between stagnation and change, and about our right to exist with voices that are loud, fearless, and yes, impolite."
About her experience of directing, 'Shut Up Sona,' Deepti says, "This film is not just about my friend Sona but about a woman whose relentless pursuit for equality has resulted in an inspiring journey which is part protest and part music. A woman who has been told to not take up so much space in public discourse, to back down, stick to music, cover up, but mostly, to 'shut up'. Sona shows by example that all women can stand their ground no matter how hard they are pushed back. As one of the first female cinematographers in India working in a male-dominated profession, I relate with Sona's story at so many levels and am sure, a lot of other women will too as they deal with millennia of patriarchy at every step, every single day."
Also commenting on the release of the film,Archana Anand, Chief Business Officer, ZEE5 Global says, "ZEE5 Global has been consistently showcasing an intriguing variety of content to its viewers worldwide. This World Music Day, ZEE5 Global is happy to bring forth the honest and inspiring story of Indian singer Sona Mohapatra with this award-winning documentary Shut Up Sona. The documentary is an inspiring story about Sona's unapologetic life through her singing. We hope that the viewers will resonate with Sona's journey as we continue to bring real and relatable stories for our audiences."
Discussing why Shut Up Sona was chosen to be a part of Zee Special Projects' roster of documentaries, Shailja Kejriwal, Chief Creative Officer – Special Projects, ZEEL, says, "We were drawn to this story because it resonates with our own belief that art, creativity, and content in the public space can be purpose-driven, meaningful and intentional. Sona, through her music continues to take charge of her narrative despite being threatened with violence, legal notices, and online hate, which is tremendously inspiring. The film also underscores the importance of women standing up for each other across races, languages and cultures. This film, as Sona herself says, is a call to action for a universal sisterhood."